Representing the 10,000 solicitors across Westminster & Holborn, providing a forum for networking and promoting professional legal services in the 21st Century.

Westminster & Holborn Law Society is delighted to announce the appointment of Carolina Marin Pedreño as President, who has taken over from Laura Uberoi. She was installed on Tuesday 29 October at the Society's Annual General Meeting, which took place at the offices of Farrer & Co.
Carolina Marin Pedreño is a Spanish abogado who cross qualified as a solicitor in 2006. She has 20 years of legal experience in cross border work, involving both public and private children issues, particularly child abduction, registration and enforcement of foreign contact orders. Carolina is a Partner at Dawson Cornwell, a Fellow and European Chapter Delegate of the International Academy of Family Lawyers, Secretary of the Union International des Avocats family commission, a member of the International Committee of Resolution, and co-chair of the European Family Justice Observatory.
Of her appointment, Carolina said, "We have an excellent agenda for the forthcoming year. Thank you to Laura for her epic leadership, and thank you to the Society and all members for all your efforts to have made the society what it is at the moment. I am excited to be taking on this appointment".
On stepping down from her position, Laura Uberoi, who was the youngest President ever appointed to a local law society and who took up the role whilst on maternity leave, thanked the officers, committees and all members for being so supportive. She explained that the priorities over the last year had been to broaden the variety of the Society's events, increase member involvement with their committees and improve the Society's profile nationally and internationally. She said, "it has been a real pleasure and I am grateful to everybody". On presenting a gift to Laura, Jeffrey Forrest described her leadership as "inspirational" and said that Laura had made the Society "more and more relevant".
The following officers have also been appointed for the forthcoming year: Paul Sharma as Senior Vice President, Matthew Allan as Junior Vice President, Anthony Seymour as Treasurer, Ivan Ho as Editor and Anisha Birk as Secretary.
Simon Davis, President of the Law Society of England and Wales was also present to accept his appointment as an Honorary Member of the Society.
1st November 2019 - Westminster & Holborn Law Society appoint their first Spanish President
Left to right: Junior Vice President Matthew Allan, Senior Vice President Paul Sharma and President Carolina Marin Pedreño
President Carolina Marin Pedreño and Immediate Past President Laura Uberoi
The Society's AGM was hosted at Farrer & Co. Left to right: Immediate Past President Laura Uberoi, President Carolina Marin Pedreño and Honorary Secretary Anisha Birk
Council Member Jeffrey Forrest presents Immediate Past President Laura Uberoi with a gift
1st October 2019 - Senior Lawyers gather in Parliament to Welcome Newly Qualified Solicitors
President, Laura Uberoi, welcomes guests to the Houses of Parliament for the annual Newly Qualified Celebration
Keynote speaker Pat Treacy reiterates the importance of diversity in the profession
The House of Commons was the prestigious venue for the Society's second annual celebration for Newly Qualified Lawyers. This auspicious setting was the perfect backdrop to reflect on the hard work and inspirational achievements of this year's trainee solicitors who are qualifying into the profession.
Laura Uberoi, President of Westminster & Holborn Law Society welcomed the attendees, including Stephanie Boyce (Deputy Vice President of The Law Society), a visiting delegation from the Barcelona Bar, and representatives from the bar associations of Krakow, Berlin, Bilbao and Amsterdam. The event was also sponsored by Chadwick Nott, Luminance, Lloyds Bank and TM Lewin.
The keynote speaker, Deputy High Court Judge Pat Treacy (Senior Partner of Bristows) gave an illuminating speech, calling on all of us as custodians of justice to uphold the rule of law by ensuring diversity in the profession: "Diversity remains an issue for the legal profession. As custodians of justice, how can a non-diverse legal profession uphold the rule of law in a diverse society? ... We should be making efforts to address any disconnect between the legal profession and society: as more senior lawyers lending a helping hand to those who are on the ladder behind us and being conscious of the effects of our conduct; and, as younger lawyers, accepting the challenges involved in helping improve diversity."
Chair of the Junior Lawyer's Division, Suzanna Eames, to joint winners, Joe Morgan of Bindmans
Deputy Vice President, Stephanie Boyce, with guests at the reception
The Newly Qualified Rising Star award was presented by the Chair of the Junior Lawyer's Division, Suzanna Eames, to joint winners, Joe Morgan of Bindmans and Cynthia Jakes of Carter Bond. Joe said afterwards:
"I think it's great that Westminster & Holborn Law Society is celebrating the achievements of junior solicitors. Many of us have worked hard for many years just to get to this stage in our careers, and I think this is well worth recognising and celebrating! There were some really fantastic solicitors who were also short listed so I was both surprised and humbled to learn I had actually won the Rising Star Award!"
Westminster & Holborn Law Society celebrates the newly qualified solicitors in the area each year and nominations for the Rising Star award for solicitors due to qualify in 2020 are open.
11 March Annual dinner
Thank you to everyone who joined us for our annual dinner on 11 March 2020, which we organised together with the South London Law Society. It was a pleasure to hear our key note speaker Stephanie Boyce talk about diversity in the legal profession and how we can ensure that our profession goes from strength to strength. It was also a pleasure to present our lifetime achievement award to Michael Tomlinson, the chairman of the Islington Legal Advice Centre (ILAC) in London. Thank you also to our fabulous sponsors, Kutter Walters costs draftsmen and Interpreting Direct.
26 February 2020 Forum for International Lawyers, Carolina Marin Pedreño our president extolling the virtues of WHLS
21st April 2020 twinned Bar Association of Barcelona
Our twinned Bar Association of Barcelon has invited us to participate in their online international training. We are going to make those videos available for our members as soon as we are able to.
11 March 2020 Twinning with Krakow
We had a wonderful Twinning Ceremony with the Krakow Bar at the Carey Street Law Society residence on 11 March 2020. We so enjoyed meeting and taking part in this ceremony with our Polish colleagues. Thank you to William Longrigg, who spoke to us about Brexit and our important relationship with Poland and other European countries.
September 2020 Newly Qualified Rising Star Award
The Westminster and Holborn Law Society are extending the submission date for the Newly Qualified Rising Star Award to Friday 18 September, with interviews to follow the week commencing Monday 21 September. The Award will then be presented on Thursday 8 October.
The Newly Qualified Rising Star Award celebrates trainees within Westminster and Holborn who have excelled during their training contract and have also demonstrated their commitment to their firm or the wider legal community. The judges invite nominations for any trainees who have demonstrated excellence in the following areas:
• Setting up a new or creative initiative for the firm
• Exceptional commitment to pro-bono activities
• Exceptional work in relation to writing topical legal insight / internal or external legal publications
• Excellence in marketing their firm
• Excellent in promoting awareness of e.g. mental health awareness or lawtech within their firms
• Working on any particularly interesting or ground-breaking areas of law
• Exceptional commitment to their profession during the circumstances of COVID-19, e.g. setting up initiatives within their firm
• Quality of work carried out to date
• Outstanding teamwork skills and communication skills.
Entries can be submitted for yourself or for your colleagues. Please submit all nominations (nomination form here) to cwhlawsoc@gmail.com
Westminster & Holborn Law Society News
17th Feb 2021 The Barcelona Bar Association Webinar - "Fake News & Privacy: A Legal Perspective"
The Barcelona Bar Association are delighted to share a video of the Webinar "Trobades de Barcelona, Memorial Jacques Henry", which took place last 29 January, in collaboration with the European Bars Federation (FBE).
The topic of this edition was "Fake News & Privacy: A Legal Perspective". Two panels were organised on this occasion. International experts participated on the first session under the subject "Intellectual Property vs Privacy law" and Presidents of International Associations of Lawyers/Jurists in the second one. "Clients and the Legal Profession". We had the honour to have Peter Penninckx, Head of Information Society of the Council of Europe, as keynote Speaker.
8 March 2021 – International Women's Day Campaign With Legal Women Magazine
Members of WHLS came together with connections to Legal Women Magazine to celebrate International Women's Day and to show their solidarity and support for the #ChooseToChallenge social media campaign. Thanks to all of those who took part.
A challenged world is an alert world. Individually, we're all responsible for our own thoughts and actions - all day, every day.
We can all choose to challenge and call out gender bias and inequality. We can all choose to seek out and celebrate women's achievements. Collectively, we can all help create an inclusive world.

From challenge comes change, so let's all choose to challenge!
©Copyright 2021 Westminster & Holborn Law Society, thank you to all of our sponsors above, website design by Benham Publishing.

8 March 2021 – "An Evening with Lesley Wan"
On International Women's Day 2021, The University of Law and Westminster & Holborn Law Society together hosted "An Evening with Lesley Wan".
Lesley Wan is General Counsel and Chief Conflicts of Interest & Whistleblowing Officer for FBN Bank (UK) Limited. She has extensive experience working as a lawyer in several financial institutions and in private practice. Lesley is a fierce advocate of equality issues, gender balance and social mobility. She is the Founder and President of The Eagle Club – a global network of 200 women in senior leadership positions. She is also Founder and CEO of Through the Looking Glass. This charity provides underprivileged children with an insight into City professions and encourages them to pursue higher education or apprenticeships.
One attendee commented that Lesley's "enthusiasm and energy was inspiring and infectious".
Special thanks to Coral Hill, Chair of our Equality, Diversity and Inclusion Sub-Committee, for organising such a fantastic event.
Wednesday 18 August 2021 6-11pm - Westminster & Holborn Law Society Summer Yacht Party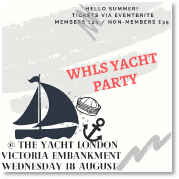 We are all excited to welcome you back to our in person events, which we are kicking off in style on the River Thames on Wednesday 18 August.
Come and join us at The Yacht London for music, drinks and canapes, and to see everyone who you've missed over the past year.
Tickets are £25 for members and £35 for non-members. Places are limited and booking is essential. Tickets can be purchased here.
This event is kindly sponsored by Lloyds Banking Group
Westminster and Holborn Law Society Annual Dinner 2021
Have you bought your tickets to our Annual Dinner yet? It's at 7pm on Wednesday 6 October 2021 at the National Liberal Club.
It will include a champagne reception and a three-course meal with wine. The dinner will be followed by post-dinner networking on the terrace overlooking the River Thames.
It is set to be a brilliant evening and a great opportunity to connect, re-connect and network with professionals across the industry!
Tickets can be accessed via this link: https://lnkd.in/dx4WsgdJ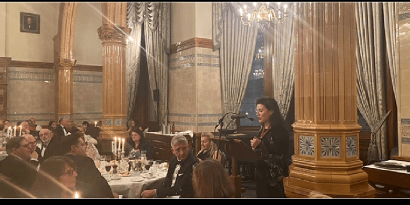 Tickets should be purchased by 29 September, dress code is black tie.
Junior Lawyers Division Conference – Saturday 2 October at 10:15am.
The Junior Lawyers Division, in partnership with Westminster & Holborn Law Society and sponsored by Devonshires is delighted to host its first face to face conference since 2019 on Saturday 2 October 2021.

The JLD represents LPC students, LPC graduates, solicitor apprentices, trainee solicitors and solicitors up to and including 5 years PQE. The event is open for attendance to JLD members and will offer invaluable guidance for junior lawyers to develop, progress and take control of their career, with talks from leading experts on topics such as knowing your employment rights, being an O-shaped lawyer, ethics, legal aid and much more. There will also be networking opportunities through out the day including a networking lunch.

Tickets are very limited so book early to avoid disappointment using the link below. https://lnkd.in/em4eaFuh